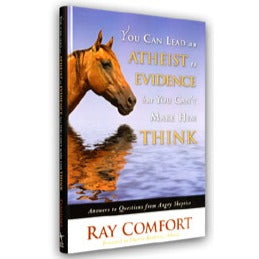 You Can Lead an Atheist to the Evidence but You Can't Make Him Think
(Hardcover, 137 pages)
Atheism, once confined to the margins of civilized debate, has grown militant and mocking – often characterizing Christianity as foolish, dangerous and evil. Nowhere is atheism's unprecedented recognition more evident than the celebration of "Darwin Day," with over 500 events planned worldwide to honor Darwin's 200th birthday and the mainstream media lauding him like a saint.
Why is Darwin so important to atheists?
Because Darwin devised, for the first time in history, a way to explain Creation without the need for a Creator. Like a theory allowing people to sit in a Cadillac showroom, surrounded by dozens of sparkling new cars, and yet deny that the cars had a maker, so did Darwin bequeath to the human race a clever way to deny what up until then had been undeniable – the self-evident reality of God the Creator.
In
You Can Lead an Atheist to Evidence but You Can't Make Him Think
, Ray Comfort uses a lively Q & A format, based on actual questions from atheists on his blog at "Atheist Central", to lay bare the weakness of the atheist's argument, but he does so with good-natured humor and warmth.
Indeed, few authors have appealed so passionately to the atheist's conscience. Comfort does much more than outline powerful empirical evidence of God's existence; he reveals to atheists how desperately they need His love and forgiveness.
A new breed of militant atheists aims to eliminate Christianity. Believers need powerful weapons to "fight the good fight of faith." Whether you're answering an atheist at the office or reassuring your child after his faith comes under assault in the classroom, you need to have this important new book. God's existence is easy to prove – and this book teaches anyone how to do it.
"
You don't have to shut off your brain to have faith—and Ray Comfort proves it. He's taking on those who deny God and Creation, and he's making them look like the monkeys from whom we supposedly descended.
"
—
Joseph Farah
, WorldNetDaily.com
"
Ray Comfort has once again laid hold of the greatest power on earth, the power of the Gospel. Here he brings that power to bear, makes that light to shine in the darkest corners of our times, among fools. He proclaims with fidelity and winsomeness, remembering that such were once we, walking in the paths of darkness.
"
—
Dr. R.C. Sproul, Jr.
, The Consequences of Ideas
"
I find it so encouraging that in these challenging times of 'culture wars,' Christian leaders like my friend Ray Comfort are passionately defending the authority of the Bible from its very first verse.
"
—
Ken Ham
, The New Answers Book
Reviews from anonymous readers
"This is such a good book. I am going to get some of these and give them as gifts. I am really glad that I get to review this book."
---
"I just started reading this book last week. By the 8th page I was so amazed by the information in [it], and the intelligence of Ray Comfort, as well as argument against evolution and Darwinism... All I can say is WOW."
---
"Ray has done it again! In his witty sort of way, he presents the facts that God must exist. How all of this came together from nothing is simply incomprehensible!"
---
"Brilliant! Contrary to the atheists concerted effort to snuff this book, it's well worth the read."
---
"AWESOME!! This is a wonderful book and if you are interested solid logical thinking and sound insights, this is the book for you!"
---
---
We Also Recommend
---