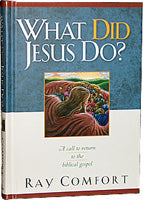 What Did Jesus Do?
Rather than wonder "What would Jesus do?" we should look to the Scripture to see: 
What Did Jesus Do
? 
What was the way of the Master Evangelist in the most important of issues-reaching the lost? Why did he use a radically different approach than that of the modern Church? 
Paul imitated Jesus, working for "the profit of many, 
that they may be saved
." Then he admonished, "Imitate me, just as I also imitate Christ" (1 Cor. 11:1). 
James obeyed that command. So did Stephen, Peter, John, and Jude. So did Charles Spurgeon, John Wesley, George Whitefield, Martin Luther, D.L. Moody, and many others through the ages. Only the modern Church had drastically deviated from biblical evangelism. 
In a day in which many crucial truths are neglected, Ray Comfort calls the Church back to the way of the Master Evangelist, to consider 
What Did Jesus Do
 and then go and do likewise. 
Reviews from anonymous readers
"If you find The Way of the Master to be too long, then try this book--especially if you are leading a small group interested in sharing their faith. The author details how Jesus, Paul, the apostles, and John the Baptist used the Law to bring their hearers to repentance and salvation and faith in Christ alone. Like so many of Comfort's excellent books, this one is desperately needed in the American church today where so many are trusting in a false conversion experience." 
---
"Wow!!!! My whole life I somewhat tried to live by this phrase, "What would Jesus do?" I'm sure you've heard it, its a pretty popular saying. But after reading this book I've realized that we don't need to ask ourselves what would He do, but just read the Bible and see what He DID DO!!!! Ray Comfort is a genius and I just bought all his books. He has opened my eyes to so many parts of the Bible. This is a quick easy great read!!!"
---
We Also Recommend
---