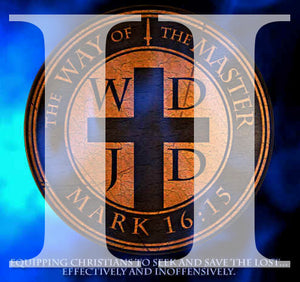 The Way of the Master - Season 2 (Video Download)
The Way of the Master television program -- Complete Season Two:
God's Wonderful Plan
Conscience
Alcatraz, Al Capone & Alcohol
True & False Conversion
When Things Go Wrong
The Satanic Influence
Evolution
How to Witness to a Loved One
The Fear of God
Ice-Breakers - Tracts
The Greatest Gamble
How to Get on Fire for God
** Please note at this time we do not support downloads directly to Apple devices (iPad, iPhone, iPod) or most tablets. For those devices, you will need to download to a computer first and then copy the files using iTunes or a similar program. ***
"Thanks to Kirk and Ray for seeking to motivate believers to fulfill the Great Commission, and for staying true to the biblical message of repentance from sin and forgiveness in Christ."
-- John MacArthur
"The Way of the Master is a fresh new television program that grabs your attention from the opening scene and sustains it throughout the entire program. The interviews with people on the street are a vivid revelation of the terrible need people have for the Christ of the Gospel. I was encouraged and motivated, and you will be too."

-- David Jeremiah
"I love this television show."
-- Janet Parshall (Janet Parshall's America)
---
Previous Customer Reviews:
August 13, 2009
I just became a grandmother a couple months ago and I saw your show just the other day and I think this will be a good show to purchase on DVD and put it in my grandaughter's library. I believe it would fall under the category of training and equipping -- like Christian Sesame Street!!!
April 14, 2009
I love this television series. It challenges, convicts, and encourages us to do what Jesus did. You'll watch these episodes over and over and won't get tired of them. You will not be sorry if you invest in these DVD's. You're not missing anything on secular television anyway, so you might as well invest in your spiritual future. It is also very relevant to the times we live in.
---
We Also Recommend
---