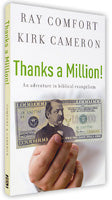 Thanks a Million!
Join Kirk Cameron as he preaches to the crew on a Hollywood movie set. Sit in as he shares the gospel with hardened criminals and murderers in the L.A. County Jail and with famous celebrities, or preaches "open-air" at a Southern California high school. Be a fly on a wall as a young Christian speaks about spiritual things to actor Jim Carrey, and as Ray Comfort witnesses to atheists, Jehovah's Witnesses, psychics, gang members, and to the "Antichrist" on the "Left Behind" movie set. Be the sidekick of a Los Angeles police officer as he communicates the gospel to a high profile murderer on death row.
Thanks a Million!
is sheer encouragement with a bucket of pure adrenaline. It puts you on the set of the Hollywood movie, right on the seat of a plane next to an atheist as he begins to backslide. You get to eavesdrop on the most interesting conversations about the most exciting topics. But this publication isn't meant to be ear-tickling tabloid talk. Its sole purpose is to teach you what to say, how to say it, and then to send you out on your own million dollar adventure.
"I would think it greater happiness to gain one soul to Christ than mountains of silver and gold to myself." -- Matthew Henry
Reviews from Amazon.com
"Very entertaining and educational book gives many examples of Ray and Kirk witnessing to complete strangers effectively and inoffensively."
Customer Reviews
October 30, 2010
This book is so helpful! After attending Transformed and reading this book I had so much fun passing out my first 100 Million dollar bills. I bought another hundred and I re-read chapters to keep my motivation high.
July 29, 2010
Love this book. Fun to read and I tell all my friends about it.
September 17, 2009
Im just about half way through this book, It's hard to put down. This will really encourage you to share your faith even more. Highly recommended!
September 17, 2009
My husband began reading the 'Million Dollar' book and he began living it. One day he witnessed to about 6 people (from not witnessing at all) and was so excited about it.
September 06, 2009
While I love the Way of the Master book, this is my all time favorite book. It details many witness encounters by Ray, Kirk and others. I have read it more than once just for the step by step information that is shared. Sometimes the steps are summarized but regardless of the outcome (and some can be funny) I never grow tired of reading and re-reading this book. Also, there are some major "celebrity" types that were witnessed to in the book that gives you pause to think and pray about.
---
We Also Recommend
---