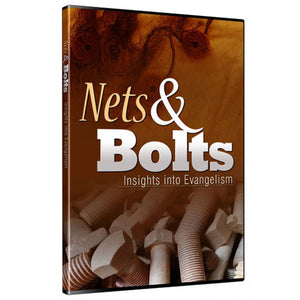 Nets & Bolts MP4 Download
This 5-session video series offers a compilation of equipping and insightful odds and ends for evangelism. From how to hold a witnessing conversation together, to a primer on how to cast your net in open-air preaching, these videos will give you some wonderful tools to share the gospel. 

Evangelism Is as Exciting as a Root Canal, with Ray Comfort
Sharing the gospel is rough. You don't want to share, they don't want to listen; it's not easy. In this often humorous and inspiring message, you'll find secrets to staying super-charged in your love for the lost. 

Love At Its Best, with Emeal ("E.Z.") Zwayne
To live for the glory of God is every Christian's greatest honor. This should be our all-consuming passion, and the motivating factor behind everything that we do. How can God's people most effectively fulfill this divine and noble calling? 

Balancing Apologetics and Evangelism, with Kirk Cameron
Kirk shares his personal testimony, as well as explains what a healthy marriage between apologetics and sharing the gospel looks like. The message includes answers to some of the more common questions and objections skeptics raise. 

Tracts & Transitions, with Mark Spence
It's been said the scariest parts of witnessing are the same as flying in a plane: going up, and then coming back down. How do you start a conversation and turn it to the things of God? You'll get some practical gems in this message. 

Open-Air Preaching, with Stuart ("Scotty") Scott
Did they open-air in the Bible? Where can you open-air? How do you draw a crowd? You'll get years' worth of open-air experience and insight packed into this hour long video.
***Please note at this time we do not support downloads directly to Apple devices (iPad, iPhone, iPod) or most tablets. For those devices, you will need to download to a computer first and then copy the files using iTunes or a similar program.
---
We Also Recommend
---