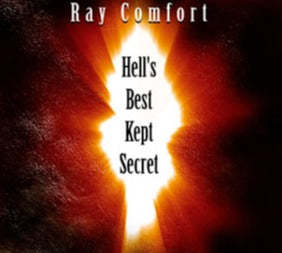 Hell's Best Kept Secret Series MP3 Download
CONTENTS: 16 MP3 messages from Ray Comfort's original series "Hell's Best Kept Secret". 

1. Hell's Best Kept Secret
2. How To Effectively Use the Law
3. Freedom From the Fear of Man
4. How to Find God's Will For Your LifeM
5. Consequences of Failure to Use the Law
6. How to Witness and Preach Effectively
7. How To Get On Fire For God
8. True and False Conversion
9. Subtle Doctrines of Devils
10. Keys to Revival
11. The Occult
12. Common Objections to Christianity
13. Militant Evangelism
14. Keys To Zeal
15. Why the Lack of Power Within the Church?
16. How to Get Passion for Souls 

"Hell's Best Kept Secret is the most powerful teaching I have ever heard." -- Scott Cundiff, (KY). 

"I've learned more in the last week listening to Hell's Best Kept Secret than I have in the 25 years I've been a Christian." -- Kevin M. Lewis, (WI). 
Please note that you must first download this file onto a desktop computer, and then you can transfer it to another device via iTunes or equivalent software. 
---
We Also Recommend
---