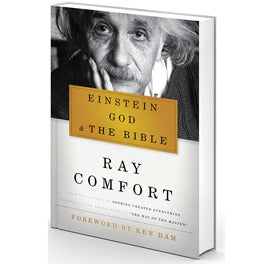 Einstein, God, & the Bible
(Hardcover. 278 pages) 
"Why is it that nobody understands me, yet everybody likes me?"
 Albert Einstein 
The genius scientist that everyone knows may be the least understood -- until now. Ray Comfort explores the life and beliefs of the world's most iconic man of science. Learn how to put to death forever the myth that Albert Einstein was an atheist. 
How did a German Jew rise almost overnight to international iconic status at a time when the Western World considered every German to be the enemy? 
Why do so many atheists claim him as one of their own despite his belief in God? 
What did he discover that changed the face of modern science? 
What did Albert Einstein believe about God and the Bible? 
The answers will fascinate you. 
"Einstein, God, and the Bible 
is a timely book on a subject that interests multitudes throughout the world. Ray Comfort has an exceptional gift in that he takes the most interesting subjects and creates engaging and accessible work that appeals to novice readers and scholars alike. I am sure Einstein will influence millions."
Greg Elsasser
, 
The Adventures of Roman and Jorge
---
We Also Recommend
---