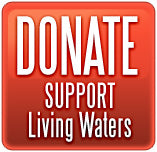 Donation to the Ministry
Without generous supporters like you, Living Waters Europe simply wouldn't exist. Every donation counts. Even if it's £1! 
Living Waters Europe is a registered charity designed to inspire and equip Christians to effectively share The Good News. We regularly receive testimonies of how God is using Living Waters to bring people to a saving faith. 
Where does the donation go?
The trustees of this ministry do not receive an income from this organisation. Any money donated or raised goes back into the ministry, which pays for: 
Media production (for example our YouTube videos) 
Regular outreach events 
Free material 
Miscellaneous costs (Admin, full time staff, office space etc)
How far does your donation go?
£30

 

- Equivalent to giving away 500-1000 Gospel tracts
£60

 

- Equivalent to an open-air event, preaching to 100s of people in a city
£300

 

- Equivalent to producing 1-2 videos on YouTube for thousands to watch
£500

 

- Equivalent to training a church to effectively evangelise for years to come
£5000

 

- Covers costs of the ministry for a whole month, including video production, evangelism, free material and training
A message from Living Waters Founder, Ray Comfort:
Your kind support of Living Waters Europe enables us to create productions of the calibre of "Evolution Vs. God," "Audacity," "180," and much more. We are extremely grateful for your help and thank God for your partnership. When you click "Add to Cart", simply enter the quantity equal to the pound amount you are donating. Thank you, Ray Comfort. 
Click here if you would rather donate on a regular basis
Thank you so much!
---
We Also Recommend
---