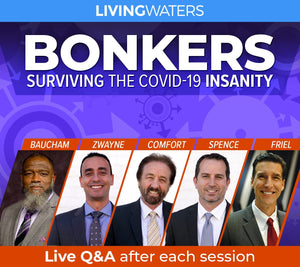 Bonkers Conference MP4 Download
(Five 1-hour sessions—MP4. Closed-Captions or Subtitles not included)

No juggling bear in a tutu or Acme rocket with a coyote tied to it, that's not the kind of "bonkers" we had in mind. We're talking about the upside-down COVID-19 insanity we're all walking through right now. Will we go back to work only to have an outbreak and restart the cycle? How do you stretch thinning finances? And, what about those at higher risk? God hasn't forgotten you. He's laid out many practical principles and truths in His Word that apply to all times, especially to the ones we're living in.

The speakers and messages (live Q&A followed each session):


Ray Comfort: "Gems from the Life of Joseph"
Todd Friel: "The Genesis Fall Explains and Fixes Bonkers Thinking"
Voddie Baucham: "The Antidote to Our Bonkers Home Life"
Emeal ("E.Z.") Zwayne: "Peace and Praise in the Power, Providence, and Person of God"
Mark Spence: "Our Hope is Better than the World's Hope"
For non-desktop users: make sure you download the files onto a desktop computer and then transfer the files onto your device from there using the appropriate software, as files may not download directly onto your device.
---
We Also Recommend
---