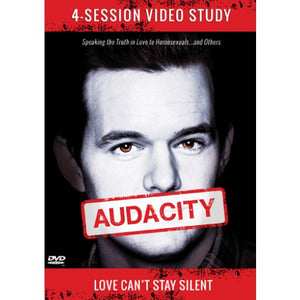 Audacity 4-Session Video Study MP4 Download
This four-session video study will teach you how to overcome your fear and share the gospel lovingly, yet without compromise, with those who practice homosexuality. But it doesn't stop there.
Please note that you must download the files onto your desktop computer before viewing on your mobile device. Once it is downloaded you can then upload it onto your mobile device via the appropriate software, eg iTunes.
The issue of homosexuality is becoming increasingly prevalent in our society, and it's one the Church can no longer ignore. But how can we address it with love—and with truth? This four-session video study will teach you how to overcome your fear and share the gospel lovingly, yet without compromise, with those who practice homosexuality. But it doesn't stop there. You will also discover how to share the gospel with adulterers and fornicators, your atheist aunt and your self-righteous sibling, your coworkers and neighbors. We'll help you learn how to get to the heart of the matter by using simple, biblical principles that have transformed our lives and the lives of countless others. 

This study is perfect for church small groups, Sunday schools, and family devotions. 

This download includes:

• Four 25-min. sessions with teaching by Ray Comfort, Emeal ("E.Z.") Zwayne, and Mark Spence
• Printable study guide
• Promotional material (study trailers, printable poster and flyer, presentation slides, etc.)
---
We Also Recommend
---