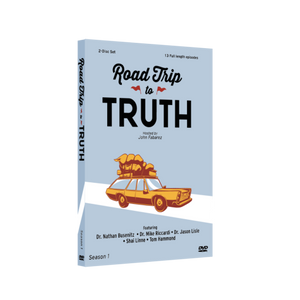 Road Trip To Truth - DVD Series
Take a 2000 year old question, throw in a mix of Gen Z college students, a healthy serving of experts, a dash of animation, and what do you get?
Road Trip to Truth is an engaging thirteen week video series that seeks to teach us that the answers to life's biggest questions are never that far off.
Get ready to go on an intelligent, respectful, powerful journey across college campuses to confront the issues of evolution, depression, the reliability of the Bible, logical fallacies, the existence of God, and truth itself.
Host John Fabarez talks with experts including Dr. Nathan Busenitz, Dr. Mike Riccardi, Dr. Jason Lisle, Shai Linne, and Tom Hammond to help today's youth understand exactly who God is, what His Word says, and why we should trust it.
---
We Also Recommend
---