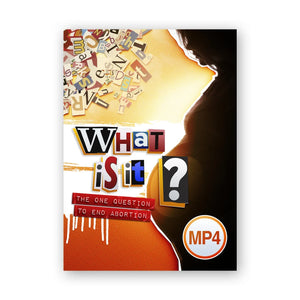 What is it? MP4 Download
53 Minutes, MP4. HD.
From the US? Download here.
You were you from the moment of conception—a unique human being that will never be repeated in all human history. Abortion is one of the most hotly debated topics in the world.
Hitting the streets with common-sense reasoning, Mark Spence, Ray Comfort, and Emeal ("E.Z.") Zwayne use science, philosophy, and theology to change the minds of even the staunchest of pro-choicers. The complex issue of whether abortion is right or wrong can be simplified by answering one question: "What Is It?"
Please be aware that at this time we do not support downloads directly to Apple devices (iPad, iPhone, iPod) or most tablets. For those devices, you will have to first download to a computer and then copy the files through iTunes or a similar program.
---
We Also Recommend
---